Commemorating 100 Years of Significant Forest Hills Buildings
Hits: 1779
A Landmark-Worthy Trail in Forest Hills
By Michael Perlman
Art and architecture are a gift for the masses, especially throughout historic Forest Hills. This is proven by an extensive collection of Tudor, Georgian Colonial, and Colonial buildings, where several significant sites are currently approaching or slightly exceeding the century mark. 
New Yorkers in 1923 were fortunate to hop onto the Queens Boulevard trolley line and discover the newly named Rego Park. Other highlights were the opening of Yankee Stadium, the replication of Theodore Roosevelt's childhood Manhattan townhouse, as well as enjoying jazz at the new Cotton Club. The subway fare was five cents and paid in coins, but the Queens Boulevard landscape had no IND Subway line. Forest Hills was only 17 years old and residents recalled the farming days of what was once known as Whitepot.
This year marks the centennial of Forest Hills Stadium, the first tennis stadium countrywide, which was completed on August 11, 1923 in time for the Wightman Cup. The arched colonnade, graced with eagles and West Side Tennis Club crests, was designed by West Side Tennis Club member Kenneth Murchison, a foremost public buildings architect, and erected by the Foundation Company of New York, whose expertise was superstructures and substructures internationally. In a 1922 edition of MIT's "The Technology Review, an ad referenced it as "America's Tennis Stadium."
The nearby stately Tudor clubhouse features an extensive tennis player "wall of fame," including portraits of Bill Tilden, Helen Jacobs, Rod Laver, John Newcombe, Andre Agassi, Billie Jean King, and John McEnroe. A series of firsts transpired on the stadium's hallowed grounds. In 1953, Maureen Connolly Brinker was the first woman to win a Grand Slam. The stadium was the U.S. Open's birthplace. Singles and National Championships and the Davis Cup also made history. Since tennis was a segregated sport, racial color barriers were broken when Althea Gibson was the first African American to win a U.S. National Tennis title in 1957, and Arthur Ashe was the first African American man to achieve the U.S. Open title in 1968.
As of 1971, the stadium began hosting annual Robert F. Kennedy Pro-Celebrity Tennis Tournaments. The 1976 event, which benefited the Robert F. Kennedy Memorial, featured influential tennis players including Stan Smith, Jimmy Connors, Guillermo Vilas and Wimbledon crown recipient Björn Borg, who were joined by the Kennedy family, Chevy Chase, Walter Cronkite, Art Buchwald and Muhammad Ali.
Frank Sinatra, Simon & Garfunkel, Bob Dylan, Barbra Streisand, Bette Midler, Trini Lopez, The Who, Hall & Oates, The New York Pops, and Santana are a miniscule percentage of musical legends since the stadium's adaptation as a concert venue in 1960 and a 2013 rebirth, after nearly undergoing demolition. The stadium was also the setting of Alfred Hitchcock's film, "Strangers on a Train" (1951), and The Beatles' helicopter landing on grass courts before performing, which was among the stadium's most dramatic moments in 1964.
The former Forest Hills Theatre at 107-16 Continental Avenue was also designed by Kenneth Murchison, and retains an ornate Tudor façade with lions, heraldic shields, fruits, knights, vines, urns, and tilework. For $300,000, the Sheer Amusement Company of Queens formally opened "the finest moving picture house on Long Island" on December 5, 1922, and it was the most complete of its kind and size countrywide. Its marquee boasted classics such as silent film "Through The Dark" (1924) starring Colleen Moore, "Too Many Girls" (1940) starring Lucille Ball, "The Wizard of Oz" (1939), "Alias Nick Beal" (1949), "Planet of The Apes" (1969) and "Dirty Dancing" (1987).
The theater offered a resident orchestra and organist who played a rare four-manual Smith Unit Organ, sometimes embellished by singers and dancers for a silent film prelude. This also where the Garden Players of Forest Hills and Kew Gardens performed, and on Saturday mornings, children's films endorsed by the Schools Motion Picture Committee were shown. The theater later featured mainstream and art films, and closed-circuit boxing broadcasts.
In 1926, Helen Keller and Anne Sullivan lectured to benefit the American Foundation for the Blind's mission. On Armistice Day of 1940, a mile and a half parade featured a band, a detachment of troops, and the Forest Hills Post of the American Legion, which made stops at Memorial Green and MacDonald Park, where American flags were raised. At the theater, 1,000 attendees listened to patriotic speeches by veteran group leaders. In 1971, Roger Williams, known for "Autumn Leaves," played his tunes, gave autographs, and introduced a computerized method of teaching piano and organ.
Landmarked in 2012, the Neo-Medieval style Engine Company 305, Hook & Ladder Company 151 at 111-02 Queens Boulevard, was erected to serve a growing population due to post-WWI Forest Hills residential construction. The firehouse's design was fulfilled by John R. Sliney, the FDNY's head building inspector. On the façade lies a bronze plaque dated 1923 and features notables including Forest Hills'-own Mayor John F. Hylan and Fire Commissioner Thomas J. Drennan.
The façade features brick in a Flemish bond and decorative limestone details. Asymmetrical massing is accentuated by steep gables with copper standing-seam roofs, two square towers featuring round-arched windows, and a tall slender chimney.
At its November 1924 opening, FDNY chief Hubert J. Treacy of the Bureau of Repairs praised it as "the most pretentious fire engine house in the Greater City." On dedication day, the Long Island Daily Star explained that it was "constructed to harmonize with the architecture of the surrounding community," which included Forest Hills Gardens.
The firehouse's more recent years also bear great significance. FDNY firefighter John DePierro held a record as the longest serving firefighter from 1969 to 2012. On September 11, 2001, Engine Co. 305 witnessed the casualties of senior firefighter Peter Nelson and firefighter Joe Hunter. Within its walls exists a superb example of camaraderie, which facilitates teamwork to extinguish fires.
Nearby is a facade that reads "The Medical Society of The Covnty of Qveens" (with a traditionally inscribed U) at 112-25 Queens Boulevard, a classically-appointed gem with columns and cartouches. This building was erected in front of a trolley line and dirt roads. Although the building's cornerstone laying was in 1929, a historic achievement unfolded when the society purchased their Forest Hills property, as announced in the Newtown Register on November 17, 1923.
Organized in 1806, when Queens consisted of hamlets and farms, it would grow to become one of the largest societies countrywide. In 1926, the Committee on Graduate Education was founded to introduce the latest and best in medical science. Among its achievements is an annual series of lectures by recognized medical leaders and hospital services in post-graduate clinical instruction. Today, the society is home to over 1,600 members, and their Medical Education Committee educates physicians and enhances patient care.
In the early 20th century, much of Austin Street and streets bordering Queens Boulevard were nicknamed "The Village" based on Garden City movement-inspired architecture and mom and pop shops. Three early apartment houses were designed by Manhattan-oriented architect Rudolf C.P. Boehler. Selling points included the Long Island Railroad, Forest Park, and recreational facilities for golf and the West Side Tennis Club.
The four-story Alberta Apartments is a Tudor standout at 2 Roman Avenue, which has been renumbered 108-22 72nd Avenue, and was ready for occupancy on October 15, 1923. Erected by John S. Myers, it was named after his mother Alberta. The Alberta was advertised for its view of Kew Gardens and Elmhurst, with an abundance of sunshine to the benefit of 29 families.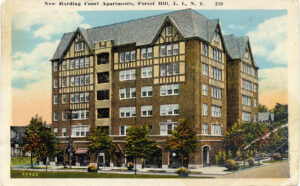 Nearby, Boehler designed the six-story Tudor-style residence, Harding Court Apartments at 15 Portsmouth Place, which was later renumbered 109-01 72nd Road and was ready for occupancy in March 1924. This development was underway in September 1923 and bears homage to Warren G. Harding, the 29th U.S. President, whose term began in 1921, but passed away while in office in 1923. It became one of the earliest multi-story "elevator apartment houses" in Forest Hills, with two elevators and 44 apartments, consisting of two to seven rooms. A June 1925 ad read, "June brides complete your happiness – Live at Harding Court Apartments" and called it the "finest elevator apartments." In May 1929, its appeal influenced the development of the Forest Hills Library, which became a tenant, attracting 500 subscribers in a couple weeks.
The One Continental Avenue Building, also known as 107-37 Continental Avenue, was designed by Boehler as a four-story residential and commercial building and complementary to Forest Hills Gardens. In 1922, it was advertised as the three uppermost floors having three apartments each, offering the benefit of exposures of Queens Boulevard and Continental Avenue. Distinctive features include a pitched slate roof, half-timbering accomplished by brick and pea gravel, and an arched entryway with vines extending from cartouches, leading to a central section of stone quoins, topped off by a crest. It remains as a most unique example of Tudor design outside Forest Hills Gardens.
In November 1921, the Corn Exchange Bank received permission from the State Banking Department to open a Forest Hills branch at 106-24 Continental Avenue. Now it is Boston Market, but in 1922, patrons were welcomed to a prominent Tudor brick and stone building on an early commercial street. It features a pitched sweeping roof with terra-cotta tiles and a spire that is harmonious to the Forest Hills Inn, as well as tall windows with motifs of crops and flowers.
In 2023, at a time of redevelopment, it is more than ever imperative to landmark and preserve architecturally and culturally distinctive buildings and neighborhood stretches. Otherwise, the original Forest Hills, which sits outside the covenant-safeguarded Forest Hills Gardens, may become "Anytown USA."
Please follow and like us: